The engagement helped to raise awareness and understanding of the vital importance of supporting young people and their families to manage their mental wellbeing, recognising how they can help themselves, as well as each other, to build the skills for happy and healthy experiences in sport and life.
SportsAid has been providing information and advice on mental health and wellbeing to young sports people and their parents and guardians for several years. In partnership with BelievePerform, wellbeing specialists in sport and education, an online platform is currently in place which offers extensive applied and practical resources to maintain the mental fitness of athletes, while guiding parents and guardians on how they can best support and encourage their children to thrive inside and outside of sport. They have also benefitted from the delivery of in-person sessions. 
The Princess, who has been the Patron of SportsAid since 2013, and The Prince had the opportunity to see the support being offered by the charity first-hand as they contributed to two themed sessions followed by a couple of practical exercises. They talked to several athletes currently supported by SportsAid, as well as their parents and guardians, to hear about how they manage the anxieties they may experience from the pressures and expectations of being a talented young sports person, whilst also balancing other areas of their life such as school, friendships and family time.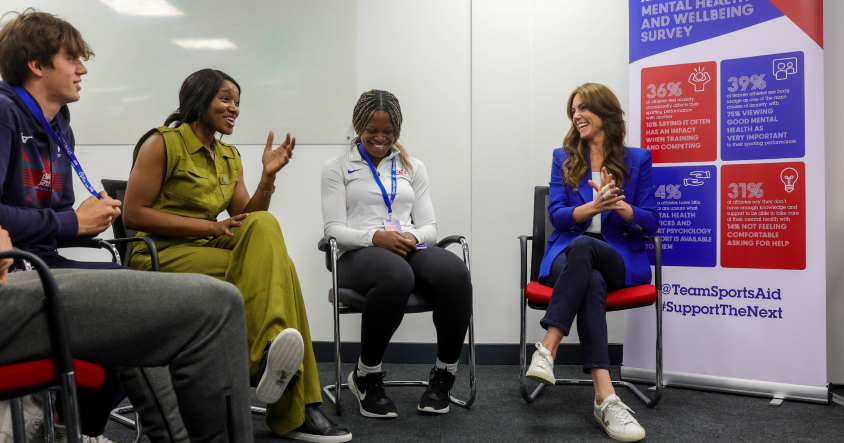 Upon arrival, Their Royal Highnesses headed into a discussion involving Sir Matthew Pinsent, a four-time Olympic gold medallist and SportsAid trustee, and Shona McCallin MBE, current Team GB hockey star and Olympic champion, where they met a group of parents and guardians to talk about the various aspects of, and concerns for, their children's mental wellbeing. The Prince and Princess were also given an insight into the groundbreaking mind health programme, currently being developed by SportsAid and BelievePerform, to offer progressive support to athletes and their families.   
"It has been great to talk to so many other parents and a real eye-opener to be honest," said Barjinder Kaur Mali, mother of boxing star Serena Kaur Mali, 14, who participated in the session and spent time with The Prince and Princess. "We've been able to spend time and share stories with parents whose children do different sports. We all go through the same feeling in terms of nerves! SportsAid's support is so important and we're so grateful – I've honestly learned so much today in terms of how to deal with Serena. We're all backing her up and want her to succeed 100 per cent of the way." 
Shortly afterwards, Their Royal Highnesses met Ama Agbeze MBE, former England netball captain, Commonwealth gold medallist and SportsAid trustee, and Ellie Simmonds OBE, five-time Paralympic gold medallist swimmer, as they joined a session, led by Adam Morris from BelievePerform, entitled 'Are You Ready to be Resilient?'. The Prince and Princess shared what they believe to be the key components of resilience, reflecting on their own experiences, having listened to several young athletes talking about previous occasions where they may have felt anxious or uncertain.  
"It was so great to see The Prince and Princess interacting with the athletes and joining in," said Ellie. "They listened to their experiences and also touched on moments where they have faced challenges, which really highlights the importance of being open about mental health and the pressures we all encounter in our lives. So many people in that room will have taken so much away from it and been inspired by it – it's been amazing to see them and have them visit on such an important occasion."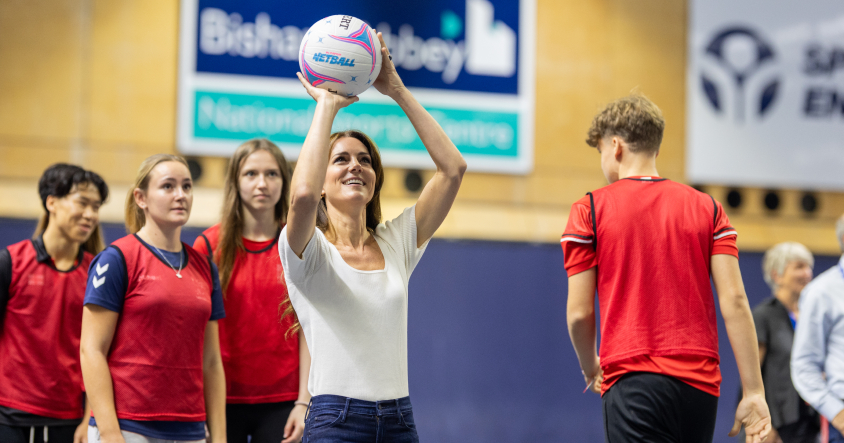 The session also focused on how wellbeing fuels performance, the process of building a resilience 'track record' and ways to build confidence with a discussion around coping techniques such as breathing, imagery and mindfulness. Amelie Tsang, 17, who was recently crowned world junior fencing champion, shared a conversation with The Prince as her group talked about the importance of regularly checking in on your mental health - even when everything is going well performance-wise. They also discussed the challenges of dealing with injuries and competing against your friends.   
"I have been injured at different times over the past year and it has been important to have the resilience to get up and out of bed every day," said Amelie. "And even though there have been moments when I couldn't do the thing I have dedicated so much time to, I could still do the little things that would help me get back to where I was. The Prince took a lot of interest in everyone in our group. We chatted about the difficulty of maintaining friendships in your sport, as you are friends when you are not competing, and then suddenly you are competing for a medal or a place! He was really interested in how you set those boundaries."
Following this, Their Royal Highnesses joined young athletes for two practical exercises focused on building mental resilience. The first task involved The Prince and Princess competing in a netball penalty shoot-out challenge under various forms of external pressures such as crowd noise and performing against the clock. The second instalment saw The Prince and Princess take part in a game of goalball, a visually impaired Paralympic sport, guided by athletes on the Great Britain talent pathway. During the challenge, Their Royal Highnesses were blindfolded, to replicate the visually impaired conditions of goalball, as they attempted to score past the athletes guarding the net.  
"The Prince and Princess really got stuck in and it was amazing for them to be trying our sport," said goalball star Lois Turner, 26, who faced a shot from The Princess. "It was great to spread the word about the sport and enable people to experience what it's like being visually impaired. Goalball provides great opportunities both on and off the course and it's really enjoyable to raise awareness of this. The Prince and Princess gave it a go - I'm sure they've had their own barriers in life and it's great to see them show that these can be overcome and put themselves in other people's shoes." 
The visit from The Prince and Princess comes after SportsAid revealed the findings of a new mental health and wellbeing survey, commissioned by the charity in September 2023, on World Mental Health Day earlier this week. The survey, run in partnership with BelievePerform and EVERFI, highlighted the anxiety felt by young athletes involved in performance sport, the different challenges facing female and para athletes, and the appetite for more support and advice. The mind health programme, which will adopt a more curriculum-type approach, is set to launch early next year.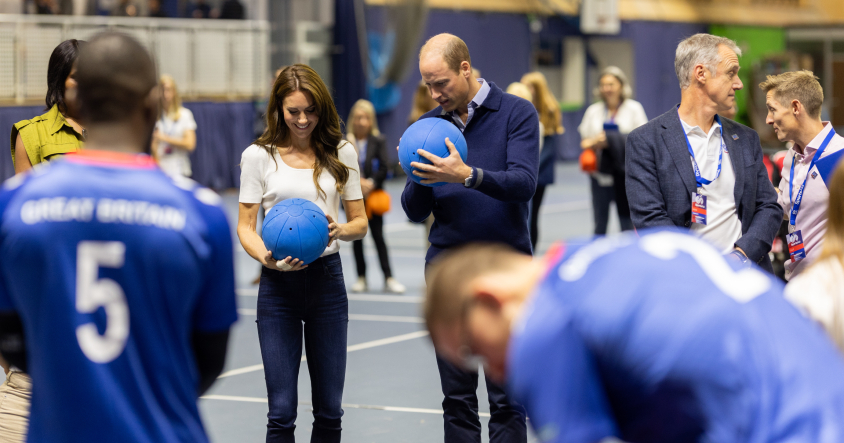 "The support of The Prince and Princess is really special and exciting," said Tim Lawler MBE, SportsAid's Chief Executive, who accompanied The Prince and Princess throughout the visit. "The Princess, as our Patron, has been so supportive and we know this is a topic she is hugely passionate about. Both The Prince and Princess have committed their time to engaging with the athletes and sharing their experiences. The findings from our survey inform us that this is a key space we need to continue evolving our work in - there's an unmet need and it's understood by athletes. We want to do even more heading into next year to further enhance our support for our athletes around mental health and wellbeing."
NOTES TO EDITORS
SportsAid's mission is to encourage, enable and empower the next generation of British athletes to achieve their ambitions in sport and life! Over 1,000 talented young sports stars - the vast majority aged 12 to 18 - are nominated to SportsAid each year to receive financial support and a range of personal development opportunities. These athletes are the country's brightest prospects having been selected and put forward to the charity by the national governing bodies of more than 60 sports.
The support from SportsAid acts as a real motivational boost as it is often the first recognition they are given outside of their support network. Most of the athletes also rely heavily on their parents as they have no other funding. The typical value of a SportsAid award is £1,000 and the charity works hard every year to try and ensure each nominated athlete is given the support they deserve. This includes workshop sessions, both online and in-person, where athletes are offered mentoring by Olympians and Paralympians, as well as gaining advice from industry experts on mental wellbeing, practical nutrition, restful sleep and telling your story through the media to help with raising their profile. 
Since 1976, SportsAid has supported tens of thousands of athletes by distributing over £50 million in awards. The charity's extensive alumni stretches across the generations with Dame Jessica Ennis-Hill, Sir Mo Farah, Baroness Grey-Thompson, Dame Sarah Storey, Sir Steve Redgrave, Dame Katherine Grainger, Daley Thompson CBE, Dame Denise Lewis, Dame Laura Kenny, Ellie Simmonds OBE, Adam Peaty OBE, Natasha Baker OBE and Tom Daley OBE all stand-out names.
SportsAid's impressive track record was highlighted at the Tokyo 2020 Olympic and Paralympic Games where the charity's alumni won 141 medals. This included 47 of Team GB's 65 medals (14 gold, 19 silver, 14 bronze) and 94 of ParalympicsGB's 124 medals (26 gold, 33 silver and 35 bronze). SportsAid beneficiaries also recently had huge success at the Birmingham 2022 Commonwealth Games where they won 186 medals – 57 gold, 59 silver and 70 bronze – across 20 sports. There were 474 recipients of the charity's support representing the home nations in the West Midlands. 
SportsAid is incredibly proud to have Her Royal Highness The Princess of Wales as the charity's Patron. Her Royal Highness has met many talented young athletes helped by the charity, as well as Olympians and Paralympians who were previous beneficiaries, at training days, performance workshops and fundraising events. Her Royal Highness has been the charity's Patron since 2013. 
SportsAid also manages the Talented Athlete Scholarship Scheme (TASS) and Backing The Best (BTB) programme on behalf of Sport England. TASS helps athletes (16-plus) balance sport with the rest of their lives, while BTB supports the most financially challenged young sports stars. In addition, the charity has recently been given responsibility to manage and oversee the Diploma in Sporting Excellence (known as DiSE). DiSE supports talented young athletes to combine sport and education (academic or vocational) so they have the skills, knowledge and qualifications to pursue a career in high-level sport alongside separate paid employment in the future. 
REGISTERED CHARITY NUMBER - (#1111612)
WEBSITE - www.sportsaid.org.uk