What does it mean to be Part of the Pride?
Episode 1 - What does it mean to be Part of the Pride?
The second series kicks off in style with Danielle Brown MBE and Tim Lawler MBE as our special guests! Episode one is themed 'Part of the Pride' and sees Danielle and Tim talking about what it means to be part of Team England and representing its values, their excitement for Birmingham 2022, the build-up towards this summer's Games, and the importance of Team England Futures.
Image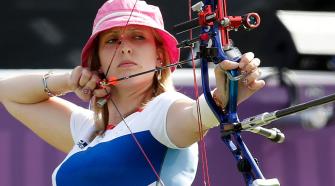 Archery legend Danielle made history by becoming the first Paralympian to represent England in an able-bodied event at the Commonwealth Games – winning team gold in Delhi back in 2010.
Danielle is also a five-time world champion and double Paralympic gold medallist having topped the podium at Beijing 2008 and London 2012 - both times in the women's individual compound event. Danielle is now a motivational speaker, children's author and champion of inclusion as well as an ambassador and mentor for the Team England Futures programme.
Image
Tim is the Chief Executive of SportsAid – a position he has held since 2004 after a seven-year spell at Saracens Rugby Club where he was the youngest Managing Director in Premiership Rugby.
Back in 2011, Tim was the first person to be publicly named as a London 2012 Olympic torchbearer in recognition of his work with SportsAid….and his passion for supporting and providing opportunities for young people. During Tim's tenure, the charity has been given responsibility to manage several Sport England-backed programmes including the Talented Athlete Scholarship Scheme, the Backing The Best programme and Team England Futures.