Image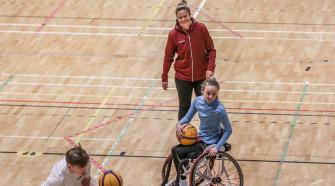 You often hear athletes mention 'the Team behind the Team' in post-competition interviews as they give thanks for the wider support they receive on a day-to-day basis.
This may typically refer to coaches, physiotherapists, strength and conditioning experts, performance analysts, family, friends….the list goes on and varies from athlete to athlete. So what does it take for Team Leaders and Chef de Missions to bring the whole operation together from top to bottom for a major Games?
Our new feature series, entitled 'Behind the Scenes With', sees experienced support staff offering insight into the processes involved in preparing for a major Games. Current and previous Team Leaders and Chef de Missions will share their experiences to help better understand their roles, the detailed planning in the build-up to a Games, and the key considerations during competition-time. 
This time in the hotseat is Justine Lucas!
Justine enjoyed an illustrious career of her own as she represented England in rugby union for six years – including competing at the Women's Rugby 2017 World Cup. She played for Loughborough Lightning, Lichfield Ladies and Wasps Ladies at domestic level while accumulating 33 caps for her country.
Following retirement from playing, Justine acted as a Performance Lifestyle Advisor for the English Institute of Sport (EiS) within para swimming before taking up her current role as England Talent Manager for British Wheelchair Basketball. She is acting as Team England's Wheelchair Basketball Team Leader for the Birmingham 2022 Commonwealth Games. 
Here, Justine reflects on her role and experiences in a special blog written for Team England Futures... 
"I played rugby for England for six years and when I retired from that, I knew that I wanted to help other people with their journey and try and make it a little bit better than the one that I had. So when I retired from rugby, I got a job in performance lifestyle at para swimming - I did that for a couple of years but I knew that I really wanted to get back on the ground, supporting the athletes a little bit more. 
"I knew, as well, that I wanted to come back into a team sport. Being a rugby player, the team bit is massive and I'm a team person, so when the wheelchair basketball job came up I thought 'this is literally perfect'. I think it's been really valuable having that insight from a personal point of view around how I've been away on camps, long camps in fact, and I've been to major competitions. 
"It's about having an idea around what the athletes want or need but also seeing it from the point of view of a staff member. There's a lot of policies and processes we have to follow but hopefully I'm getting the balance of that in terms of keeping staff happy and keeping athletes happy so we have a bit of fun with it. 
"It's seeing the bigger picture - I think sometimes as an athlete you think 'why are they making us do that?' or 'why are they making us meet at this time?' but there normally is a reason behind it. It's about making sure people realise it's not just us as a staffing team telling them to do that, it's because we're all part of something much bigger. 
"Predominantly for the last year, my role has been building up to the Commonwealth Games. Wheelchair basketball has never been in the Commonwealth Games before and we're actually playing a new format which is 3x3, rather than 5x5. 
"We absolutely do want to get a medal for both teams but it's the first time that we've played 3x3 so it's kind of going into the unknown - but getting a medal for both teams is definitely realistic. We talk about being really athlete-centred. 3x3 is a bit different, coaches are sat up in the stands so our coach will be sat in the corner of the stadium. Basically the team has 10 minutes, they call their own time outs, their own subs and if something goes wrong it's up to them to fix it. 
"So, if we don't allow the athletes to explore tactics and strategies and how they're going to communicate on-court and empower each other, then they are going to crumble. And we talked about having fun. We do want to get the medal but there is a little bit less pressure so we just talked about making the most of a home Games opportunity and if we can come together as a men's and women's team then the fun bit will come out - the athlete-centred bit will come out and the basics will. And hopefully then the medals will just come. 
"I think a home Commonwealth Games is going to be absolutely amazing. There are definitely a few athletes who are excited to have fans and make the most of that experience. I do think that a few of the younger athletes potentially don't know what's coming, and even I don't really know what's coming, but I know that it's going to be massive. 
"Being in the closing ceremony will be something that we might not get again at a home Games, so I'm encouraging athletes and coaches to make the most of that." 
Commonwealth Games England has appointed SportsAid to lead on the development, management and operational delivery of Team England Futures at the Birmingham 2022 Commonwealth Games. The programme, supported by Sport England, will reinforce the importance of the Commonwealth Games, particularly one hosted on home soil, as a developmental opportunity within the talent and performance pathway!