Image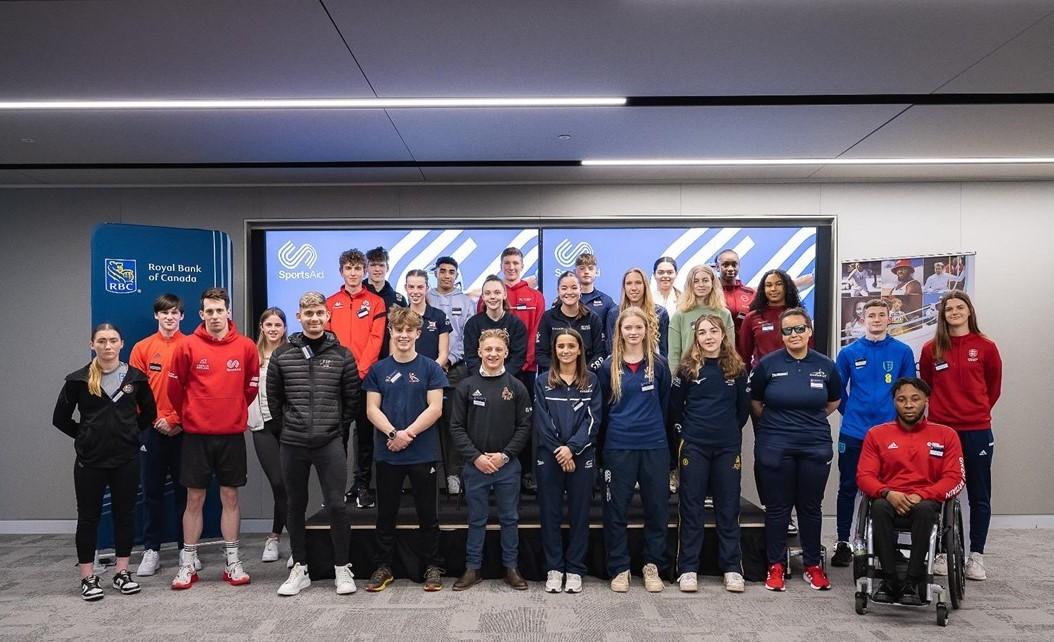 Royal Bank of Canada (RBC) has celebrated 10 years of partnership with SportsAid by announcing its class of 2023. Over the last decade, RBC has funded more than 470 athlete awards through the charity to help support Britain's most promising next generation of talented sportspeople. This year, 50 athletes across 34 sporting disciplines have received an award of £1,000 to contribute towards costs such as travel, accommodation and equipment to aid their development.
RBC's unwavering commitment towards SportsAid has seen over £1 million of support, including more than £340,000 raised by employees, provided to the charity throughout the 10-year partnership. This incredible employee engagement has involved stand-out fundraising events such as RBC Ride for the Kids, the London Marathon and the Royal Parks Half, presented by RBC. Over 30 workshops have been delivered for SportsAid athletes, as well as their parents and guardians, thanks to the funds raised by RBC. They have received expert advice on performance lifestyle management, nutrition and working with the media, in addition to mentoring from Olympians and Paralympians.
RBC and SportsAid have enjoyed a number of success stories since the partnership began with 32 individual athletes having competed at either the Olympic, Paralympic or Commonwealth Games at least once. Most notably, double Paralympic champion Georgie Hermitage was among the earliest recipients of support from the bank. The Tokyo 2020 Olympics and Paralympics saw nine members of RBC alumni represent Team GB and ParalympicsGB across the two Games, including Lauren Hemp, who was also a huge part of England's history-making Lionesses squad which won the UEFA Women's European Championships 2022. 
Busier competition schedules after the lifting of restrictions from the COVID-19 pandemic and the continuing cost-of-living crisis are having a real impact on the finances of SportsAid athletes. The charity's most recent annual survey, conducted in June 2022, revealed that 63% of athletes felt that it is now much more or more difficult to pay for their sport. Almost all (99%) athletes found SportsAid support, through partnerships such as RBC, to be 'crucial' or 'important'. The average yearly spend was £5,912 when the partnership began, back in 2014, whereas the most recent figure stood at £6,627 - even following the impact of the pandemic. 
Dave Thomas, Head of RBC Europe, said: "Everyone at RBC is incredibly proud to have reached this 10-year partnership milestone with SportsAid. We have achieved a lot together during this time and have shared many fantastic experiences with athletes, employees and clients. RBC has a global commitment to helping young people realise their full potential, and we are delighted that SportsAid is part of this pledge, especially at a time when these exceptional athletes need support the most."
One of the most integral aspects of the partnership is a buddy scheme, where the young athletes are paired with an RBC employee who follows their progress and becomes an impartial point of contact to share life-skills and experiences on topics such as education and careers. Over the last decade, 180 employees have volunteered to be part of the scheme, developing bonds with the athletes and their families as they support them on their respective journeys within high-performance sport.
Tim Lawler MBE, SportsAid's Chief Executive, said: "Ten years with a corporate partner generates a huge amount of momentum and a huge impact. Hundreds of athletes helped; hundreds of parents and carers involved; and hundreds, if not more, RBC colleagues given the opportunity to play their part. It feels more like a joint venture. With so much having changed in life, let alone in sport, in the last decade, it feels even more important to properly acknowledge just how significant this milestone is with RBC and just how vital and relevant the partnership continues to be.
"It has adapted and evolved in such a way that it remains an exemplar of how corporate organisations can work with SportsAid – finding common cause, co-creating engagement and activation opportunities and ultimately making a difference for both organisations and their respective stakeholders – and as such, is informing, including and inspiring successive generations of athletes, parents and carers on their journey in sport. A huge thank you to everyone at RBC who has been involved along the way."
Here is the list of RBC's athlete intake for 2023....
Joseph Armstrong, 16, Reigate (Short-Track Speed Skating) 
Liam Barker, 19, Reading (Wheelchair Basketball) 
Tom Barnard, 28, Gosport (Para Triathlon)
Robyn Birch, 29, Feltham (Diving) 
Benjamin Bradley, 19, Fareham (Sailing)    
Jaiden Caldeira, 18, New Southgate (Para Table Tennis)
Olivia Cheesmur, 16, Thames Ditton (Rowing)
Christo Chilton, 17, Balham (Triathlon)
Rhys Conlon, 16, Woking (Climbing) 
Adam Dalton, 17, St Clements (Golf)
Asees Dhanda, 14, Virginia Water (Weightlifting) 
Vivek Dongha, 17, Southgate (Hockey)
Freddie    Dugdale, 16, Kingswood (Judo) 
Sophie Egbaran, 18, Shortstown (Netball)
Keira Flannery, 17, Poplar (Football) 
Lucy Garlick, 15, Carshalton (Climbing) 
Lilah Gibbs, 20, Bayswater (Equestrian)
Grace Greenwood, 18, Jersey (Para Athletics) 
Nerys Hall, 18, Guildford (Canoeing)    
Katie Head, 23, Grays (Athletics)    
Jacob Heasman, 18, Crowborough (Disability Football)
Gabrielle Holland, 16, East Grinstead (Modern Pentathlon)
Joseph Hunter, 16, Wood Green (Table Tennis) 
Maya Kutty, 18, Eastleigh (Diving) 
Charlie Lane, 16, Steyning (Snowboarding) 
Erin Little, 17, Maldon (Swimming)    
Carys Lloyd, 16, Maidstone (Cycling)
Casey Markley, 16, Southampton (Cycling)
Amy Morris, 15, Lavant (Softball) 
Martha Newell, 14, Gloucester (Skiing)
Sophie O'Flaherty, 15, St Albans (Gymnastics)
Isabella Phillips, 16, New Cross (Netball) 
Alexia Potter, 16, Redhill (Football) 
Samuel Reardon, 19, Beckenham (Athletics)
Jack Reed, 18, Guernsey (Cycling)
Amelie Rees, 16, Wimbledon (Hockey)    
Vilikesa Sela, 17, Swindon (Rugby Union) 
Hollie Smart, 13, St Albans (Tennis)
Harley Smith, 17, Bulphan (Golf) 
Lanre Sowami, 24, Chatham (Wheelchair Basketball)
Fleur Todd-Warmoth, 17, Putney (Athletics) 
Amelie Tsang, 16, Bromley (Fencing) 
Alex Ulysses, 19, Catford (Goalball)
Oliver Wignall, 15, Southampton (Diving)
Christopher Wilkins, 23, Lidlington (Para Cycling)    
Jamie Winduss, 21, Christchurch (Para Equestrian)    
Matilda    Woodhead, 16, Maidstone (Hockey)    
Harry Wynne-Jones, 17, Buckingham (Swimming) 
Victoria Yabsley, 17, Vale (Netball)
Joshua Zeller, 22, Wokingham (Athletics)
*Those athletes highlighted in italics were also supported by RBC in 2022
About RBC
Royal Bank of Canada is a global financial institution with a purpose-driven, principles-led approach to delivering leading performance. Our success comes from the 97,000+ employees who leverage their imaginations and insights to bring our vision, values and strategy to life so we can help our clients thrive and communities prosper. As Canada's biggest bank and one of the largest in the world, based on market capitalization, we have a diversified business model with a focus on innovation and providing exceptional experiences to our 17 million clients in Canada, the U.S. and 27 other countries. Learn more at rbc.com.
We are proud to support a broad range of community initiatives through donations, community investments and employee volunteer activities. See how at rbc.com/community-social-impact.