Image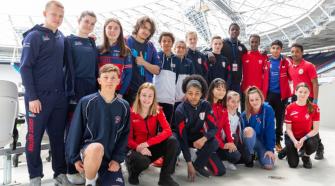 SportsAid is delighted to be among the first group of over 40 organisations to receive backing from Sport England's new funding model. SportsAid is an acknowledged critical system partner by Sport England, the principal investor in the England Talent Pathway environment, and the charity has proven experience in managing the long-running Talented Athlete Scholarship Scheme (TASS) and developing the Backing The Best programme. SportsAid will receive an investment of £16,465,000 of government and National Lottery funding from Sport England.
SportsAid has been awarded long-term funding because it has committed to co-deliver change at a national and local level, to help more people enjoy the benefits of playing sport and being active. Since 1976, the charity has supported thousands of emerging talented sportspeople and it will continue to ensure the right help and support is available to those who need it, at the right time for them and in a way that they feel comfortable in accepting it. SportsAid makes informed interventions that can have game-changing impacts for young people and their families, utilising their interest and aptitude for sport to help them in life. 
Since 2004, SportsAid has managed the TASS programme which has supported thousands of athletes on and off-the-field of play through a nationwide delivery network. The network offers support services to those athletes looking to progress through the sporting pathway - particularly those looking to transition into high-performance sport. TASS, already recognised as a world-leading programme in the support of athletes in their personal development and wellbeing, continues to develop and expand the opportunities for support staff and practitioners across a wide range of disciplines. The next few years will see this evolve and grow. 
Backing The Best, overseen and delivered by SportsAid for Sport England, was launched in 2016 to level the playing field for up-and-coming sports stars who, without critical financial help, would face difficulties progressing through the talent identification system. All athletes must demonstrate outstanding ability and potential to be eligible for the National Lottery funding, but also be facing circumstances, often financial, that will limit their opportunities. Backing The Best is seen as a crucial intervention, to help those most in need of a boost, that will enable a diverse cohort of young athletes with talent and potential, but facing barriers to their progression, to experience a stronger sense of belonging and opportunity. 
Tim Lawler, SportsAid's Chief Executive, said: "This is very welcome news during what feels like unsettling times. Sport England has stood shoulder-to-shoulder with SportsAid from the day the charity was created and this latest investment feels like a new chapter of the partnership, with refreshed focus and ambition to enable positive change. SportsAid can help more young people to develop in, and through, sport – Sport England recognises that. We are very grateful for the trust and belief in our work." 
Backing The Best also offers project funding alongside the direct support of athletes and their families, which has been helping many sports to unearth the next generation of sportspeople from under-represented communities, as well as search in areas where there may be untapped talent geographically. The funding is available to sporting national governing bodies (NGBs) to enable them to be more proactive in widening the demographic profile among athletes on the talent pathway, in time leading to high-performance success for a more diverse group. 
Sports including para athletics, para rowing, canoeing, archery, goalball and wheelchair basketball have all launched their own talent identification projects as they look to increase levels of diversity. Street 2 Stadium, searching for future Olympic and Paralympic track and field stars in inner city areas; the Paracanoe Talent Club Partnership Programme, seeking to increase disabled participants in canoeing; and Project Rimaya, introducing young Muslims to archery, are just three examples. 
Tim Hollingsworth, CEO of Sport England, said: "Sport England's Uniting the Movement strategy aims to help everyone play sport and get active – no matter who they are, where they live, or what their background. But we know that certain groups are more likely to be inactive and need targeted support and investment. We can only innovate and tackle these inequalities effectively with collective action, recognising that this is about long-term change. 
"SportsAid is one of a huge number of partners we are looking to work with on exactly this over the coming years. They play a foundational role within the sport and physical activity sector and are therefore well-placed to create the conditions for change. They will also act as a resource for other innovative organisations with the same goals as we seek to create a more equal society with everyone benefitting from sport and physical activity." 
All partner organisations were selected for the investment by Sport England due to their ability to influence positive change and improvement throughout the sector, their own networks and beyond. This is the first step on a journey to revolutionise Sport England's approach to long-term partnerships which will see it build new relationships with innovative organisations, as well as with existing partners, local partners and delivery partners to further the Uniting the Movement strategy. 
Sport England research shows that certain groups are typically less active – like women, people with long-term health conditions, disabled people, people from ethnically diverse communities and lower socio-economic groups. Right now, the opportunities to get involved in sport and activity – and reap the rewards of being active – depend too much on your background, your gender, your bank balance and your postcode – an issue Backing The Best was specifically developed to address. 
Over £193 million is being invested for this first group, with the 43 partners, including SportsAid, receiving funding for up to five years. The charity will focus on having strong governance and integrity, diversity of leadership and workforces and creating inclusive and safe cultures within sport and physical activity. This new funding model from Sport England also provides longer-term financial security as organisations recover and reinvent from the COVID-19 pandemic. 
You can find out more about Sport England's Uniting the Movement strategy, as well as the 43 partners benefitting from this first wave of funding, by clicking here.