Image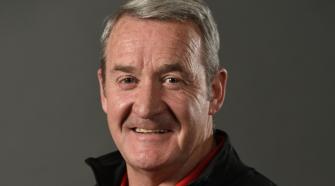 You often hear athletes mention 'the Team behind the Team' in post-competition interviews as they give thanks for the wider support they receive on a day-to-day basis.
This may typically refer to coaches, physiotherapists, strength and conditioning experts, performance analysts, family, friends….the list goes on and varies from athlete to athlete. So what does it take for Team Leaders and Chef de Missions to bring the whole operation together from top to bottom for a major Games? 
Our new feature series, entitled 'Behind the Scenes With', sees experienced support staff offering insight into the processes involved in preparing for a major Games. Current and previous Team Leaders and Chef de Missions will share their experiences to help better understand their roles, the detailed planning in the build-up to a Games, and the key considerations during competition-time. 
This time in the hotseat is Darren Chapple! 
Since 1979, Darren has been involved with boxing as a competitor, coach and official. He has 34 years of service in the Royal Air Force (RAF), where he became a coach, judge, referee and manager of the RAF and combined service squads. 
Later, in his role at England Boxing, he was heavily involved with the delivery of performance pathways and chaired the England Boxing Team Managers' Panel among other duties. Then, he was selected as the Team Leader for boxing by Commonwealth Games England at the Gold Coast 2018 Commonwealth Games, where he guided the squad to a record nine medals - including six golds. 
Here, Darren reflects on his experiences in a special blog written for Team England Futures....
"In 2007, I took the opportunity to apply for the England Team Leader role for boxing and I've never looked back really. To do the Europeans, the Worlds, and all the elite events in all age groups at multi-sport events has been a challenge - but it's been a worthwhile challenge. To be able to get the opportunity for the Gold Coast 2018 Commonwealth Games was special, but then to be re-selected was just fantastic. 
"I was extremely proud of the team at Gold Coast 2018. It's very rare that as a Team Leader you're able to stand there and say, 'You know what, we just made history'. To be able to be part of that support team and deliver a 75% medal return - 50% in terms of golds - was phenomenal. You have to sit back and realise the huge momentum that has produced going into these Games. I think for us now, it's just about making sure that we bring all the cogs together to enable us to try and do something special for these games as well. 
"Having done the Gold Coast, and we succeeded hugely by coming home with a record medal haul, the challenges for the boxing will be based around that previous result because everybody wants to bring a medal home. For me, it's about trying to make sure the preparation side is always right. We're bringing in China to provide a strong opposition to challenge the athletes not just physically but mentally prior to these Games. I think my job as a Team Leader is to make sure that I give a little bit of something different and give more to the coaches. It's a case of making sure that we maximise the coaches' ability with the support staff and bring the whole team through these Games. 
"It's a challenging time because it's not just like a normal boxing tournament. It's a multi-sport Games. There's a lot of hype. There's a lot of noise from the peripheries and the aim is to minimise those distractions to the athletes. It's distractions that we didn't have Down Under because we were able to focus as a team completely locked away. Whereas in Birmingham, there could be peripheral distractions like family and friends being a lot closer - and it doesn't sound much - but those little distractions day-by-day could have an impact. 
"The home Games is a unique opportunity. I think the whole of Birmingham 2022 will make a world of difference to everyone. I think the community has a huge opportunity through these Games to grow the West Midlands holistically to succeed. It's a unique world event, which is inclusive, fair and progressive. It's going to make the Commonwealth Games probably one of the largest worldwide to date. 
"In my role as a Director in England Boxing, Head of Performance and Talent, we made radical changes that have enhanced our sport hugely over the last 10 years or so. In all age categories, both male and female, I've seen huge amounts of preparation put into the teams by England Boxing and what we're seeing now in our Team England team for Birmingham 2022 is some of those names who came through that programme, which is a fantastic story for those athletes and testament to the work that's gone into the Performance and Talent programme." 
Commonwealth Games England has appointed SportsAid to lead on the development, management and operational delivery of Team England Futures at the Birmingham 2022 Commonwealth Games. The programme, supported by Sport England, will reinforce the importance of the Commonwealth Games, particularly one hosted on home soil, as a developmental opportunity within the talent and performance pathway!