Image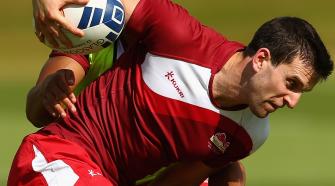 You often hear athletes mention 'the Team behind the Team' in post-competition interviews as they give thanks for the wider support they receive on a day-to-day basis.
This may typically refer to coaches, physiotherapists, strength and conditioning experts, performance analysts, family, friends….the list goes on and varies from athlete to athlete. So what does it take for Team Leaders and Chef de Missions to bring the whole operation together from top to bottom for a major Games?
Our new feature series, entitled 'Behind the Scenes With', sees experienced support staff offering insight into the processes involved in preparing for a major Games. Current and previous Team Leaders and Chef de Missions will share their experiences to help better understand their roles, the detailed planning in the build-up to a Games, and the key considerations during competition-time. 
This time in the hotseat is Charlie Hayter! 
Rugby sevens star Charlie made his Commonwealth Games debut in Glasgow in 2014 before going on to represent England in 30 HSBC World Rugby Sevens Series rounds over five years. He also travelled to both the Rio 2016 Olympic Games and Gold Coast 2018 Commonwealth Games. Prior to Glasgow, Charlie had played professional 15s rugby with clubs including Worcester Warriors Academy, Wasps and London Scottish. 
Upon retiring as a professional athlete, Charlie moved into coaching at the end of 2018 across both the men's and women's sides. In 2019, he became Head Coach of the England Women's sevens programme. Charlie ascended to the role of Women's and Sevens Performance Manager at the start of the year and this encompasses being Team Leader for Team England at the Birmingham 2022 Commonwealth Games. 
Here, Charlie reflects on his experiences in a special blog written for Team England Futures.... 
"England Sevens has only restarted in January this year having had a year as GB Sevens. So, leading into the Commonwealth Games, we've also got the Sevens World Cup this year. We're bringing together a whole playing squad, a whole new team and a relatively new staff group as well….there's lots of different challenges that come with that. 
"Every team is competing there to try and win a medal - you're in elite sport to go and do that, and that's no different for what we're trying to achieve with both the men's and women's groups. But we've also got to go on a journey to get there and how we build the foundations of an environment and a programme that we're proud of has value beyond just the medals. 
"So looking at the success as being one part – the tangibles of medals, podium finishes - 100 percent - we're not going to shy away from that. But that may take time, and number two is this intangible kind of success which is looking at how we go about our business, how we create the value and the environment that we're proud of, and that we want to keep progressing the individuals within it and the sport for the future. 
"In 2014, I played in Glasgow as a player and then was a Travelling Reserve for the Gold Coast event. So I was down there with the team as a 13th player in that one and transitioned from playing sevens into a coaching management role, and then into the programme oversight role which is the role I'm in now. 
"I suppose the learning I've taken is that sport is challenging and elite sport is challenging and there are huge ups and downs within that. Having that empathy, to have been on a journey and having had some of those experiences of highs, as well as some of those lows, that come with sport, hopefully gives me a bit of an empathetic feel for what players and staff go through to be at the top end of elite sevens. Taking some of the learnings I had as a player - both on and off the pitch - and transferring them into this role, and through that coaching journey as well, hopefully gives me a bit of a rounded approach of where we could be and the emotions and challenges of being part of an elite team. 
"A home Commonwealth Games is unique, it's a generational thing and it's massive for our group of staff and athletes to be able to compete in this. I think it's about acknowledging it upfront that this is going to be an amazing atmosphere. We've got home support carrying us throughout a packed-out stadium. But it comes with distractions as well, we've recently had the London Sevens where we got a taste of it for both the men's and women's programmes. It comes with different challenges to what we'd normally face, when we're away around the world you may not have friends and family supporting you. 
"However, with these events right on your doorstep, you tend to have family and old friends that you may not have heard from for years. Say they're at the Commonwealth Games and ask: 'can you pop out and have a photo?'. These things provide a different challenge so we need to find that balance….making sure we enjoy and embrace this amazing experience that we're going to have - regardless of results." 
Commonwealth Games England has appointed SportsAid to lead on the development, management and operational delivery of Team England Futures at the Birmingham 2022 Commonwealth Games. The programme, supported by Sport England, will reinforce the importance of the Commonwealth Games, particularly one hosted on home soil, as a developmental opportunity within the talent and performance pathway! 
PHOTO CREDIT - GETTY IMAGES