Image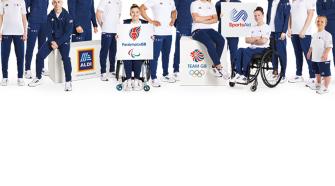 The UK's fifth-largest supermarket, Aldi, has partnered with SportsAid to support a group of the country's most promising up-and-coming athletes. The partnership will see Aldi help to fuel a team of 20 talented young stars, who are performing at the top of their sport, as they aim to compete at future Olympic and Paralympic Games. Through SportsAid, Aldi will provide financial support to each of the athletes, as well as quarterly workshop sessions on a range of topics to help nurture their personal development beyond sport.
This will include top tips on healthy eating and performance nutrition, ensuring restful sleep, managing mental wellbeing, as well as social media and media training. In addition, the young athletes, who stretch across 17 sporting disciplines, will be involved with the promotion of the supermarket's 'Get Set to Eat Fresh' programme which aims to educate children on the importance of a healthy diet and has reached over 2.1 million young people since it launched in 2015. 
Since 1976, SportsAid has supported tens of thousands of athletes, distributing over £50 million in awards and providing a platform for them to share their stories and inspire others. 
The charity's extensive alumni stretches across the generations including Dame Jessica Ennis-Hill, Sir Mo Farah, Baroness Grey-Thompson, Dame Sarah Storey, Sir Steve Redgrave, Dame Katherine Grainger, Denise Lewis OBE - and more recently - Dame Laura Kenny, Tom Daley OBE, Ellie Simmonds OBE, Dina Asher-Smith and Adam Peaty OBE - all national sporting heroes and heroines. 
The new partnership builds on Aldi's existing work with Team GB and ParalympicsGB, where the supermarket supports Britain's Olympic and Paralympic athletes. SportsAid's impressive track record was further highlighted at the Tokyo 2020 Olympic and Paralympics where the charity's alumni won an incredible haul of 141 medals. This included 47 of Team GB's 65 medals and 94 of ParalympicsGB's 124 medals. 
Adam Zavalis, Marketing Director at Aldi UK, said: "Since 2015, we've been the Official Supermarket of Team GB, supporting them with helpful initiatives and keeping them fuelled, and are proud to have also recently become the official partner of ParalympicsGB. We're pleased to be growing our support for British athletes by getting the next generation of promising young sportspeople on board and look forward to supporting them on their journey." 
Tim Lawler MBE, Chief Executive at SportsAid, said: "SportsAid is part of the fabric of British sport, providing personal development support, financial help and, crucially, national recognition to the country's emerging sporting talent. The charity could not make the impact it does without the backing of partners such as Aldi, who understand the role they can play and are committed to making a lasting difference. There is always a next generation that needs our help and this new partnership with Aldi will help to make that happen." 
Here is the list of Aldi's athlete intake for 2022.... 
Jade Atkin, 20, from Portsmouth (Wheelchair Basketball) 
Tyler Baines, 20, from Barrow-in-Furness (Wheelchair Basketball) 
Adelaide Barnes, 17, from Preston (Taekwondo) 
Emily Betts, 17, from Clacton-on-Sea (Para Judo) 
Charlotte Bianchi, 15, from Sheffield (Swimming) 
Jay Bovill, 17, from Derby (Cycling) 
Benji Cabrera, 18, from Truro (Canoeing) 
Emily Carrick-Anderson, 17, from Peebles (Cycling) 
Danny Crouch, 16, from Rayleigh (Gymnastics) 
Milo French, 16, from Verwood (Diving) 
Fay Hart, 31, from Oxted (Boccia) 
Megan Knight, 17, from Stoke-on-Trent (Rowing) 
Poppy Maskill, 17, from Middlewich (Para Swimming) 
Justine Moore, 29, from Blackpool (Wheelchair Fencing) 
Amber Moss Birch, 16, from Southampton (Boxing) 
Eryk Neumann, 16, from Sutton Coldfield (Judo) 
Amy Thompson, 15, from Liverpool (Para Athletics) 
Cameron Thores, 19, from Edinburgh (Para Athletics) 
Josh Tikare, 18, from Beckenham (Hockey) 
Zara Tyas, 19, from Honley (Athletics)