Image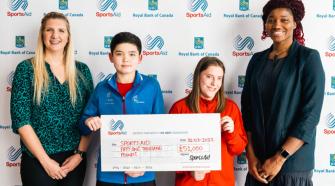 Royal Bank of Canada (RBC) celebrated entering the ninth year of its partnership with SportsAid by hosting a special welcome reception at its new City of London offices on Thursday 31 March. RBC, one of the largest banks in the world, invited its class of 2022 athlete cohort and their families to the 37-storey building to meet employees, benefit from workshop sessions and spend time seeking invaluable advice from double Olympic gold medallist Becky Adlington and Commonwealth Games champion Ama Agbeze. 
Since the partnership began, RBC has funded more than 420 athlete awards through SportsAid and provides the next generation of sports stars with financial assistance, recognition and personal development opportunities to help them fulfil their potential. The 51 athletes being supported by RBC this year stretch across 30 sporting disciplines. They are among the country's brightest prospects having been nominated to SportsAid by their sport's national governing body. 
The long-standing partnership between RBC and SportsAid sees athletes receive an annual award of £1,000 to contribute towards costs such as travel, accommodation and equipment. 
The class of 2022, which includes over 30 athletes new to the programme, were able to share their sporting journeys with each other at the reception. They also received expert guidance on working with the media and were joined by Winter Olympic skier Will Feneley, a previous recipient of RBC's support, as he offered an insight into his experiences. Becky and her mum Kay, Will's dad Dave and Ama shared their wisdom on the athlete-parent relationship with families in a separate session. 
One of the most integral aspects of the RBC and SportsAid partnership is the buddy scheme and the class of 2022 had the opportunity to find out more at the reception. Award recipients are paired with RBC employees who become an impartial point of contact and follow the progress of the athletes - supporting them and passing on news of their achievements - while imparting important life-skills. Buddies also provide work experience opportunities and general guidance on education and careers. 
Dave Thomas, CEO, RBC Europe, said: "We were delighted to welcome the latest cohort of SportsAid athletes to RBC's offices in celebration of our long-standing partnership. This is an incredibly important sporting year with a number of major tournaments and opportunities to compete for their country – particularly at the Birmingham 2022 Commonwealth Games. We are very excited to continue our buddy scheme, and offer additional volunteering opportunities for employees throughout the course of the year. We wish the class of 2022 every success as they seek to follow in the footsteps of Team RBC alumni." 
RBC has enjoyed a number of success stories since the partnership with SportsAid began in 2014. Most notably, double Paralympic champion Georgie Hermitage was among the earliest recipients of support from the bank. Recent beneficiaries include sprinter Reuben Arthur, who won relay gold at the Gold Coast Commonwealth Games, wheelchair fencer Oliver Lam-Watson, a double Paralympic medallist at Tokyo 2020, and England and Team GB international footballer Lauren Hemp. 
The Tokyo 2020 Olympics and Paralympics saw nine members of RBC alumni, including Oliver and Lauren, participate across the two Games. Sprinter Imani-Lara Lansiquot and wheelchair basketball player Lewis Edwards returned bronze medals for their country. The Beijing 2022 Winter Games also featured Will, skeleton racer Matt Weston and para skier James Whitley – all of whom previously received backing from RBC through SportsAid – as they proudly competed for their country. 
Tim Lawler, SportsAid's Chief Executive, said: "For the last few years many people in sport have looked towards 2022 as a light at the end of quite a dark tunnel. Now we're here, it does feel different and very exciting, especially with a home Commonwealth Games in Birmingham in the summer. Being able to meet and chat with this year's cohort of RBC athletes and their parents, in person, was a wonderful occasion. They were full of energy, ambition and pride; it was very infectious and inspiring. 
"Our partnership with RBC provides the perfect environment to celebrate moments such as these. After so many years together, RBC colleagues completely understand SportsAid's mission and they enable us to deliver support to young athletes, when and where it is needed, in the most effective way. We're hugely grateful for their continued support." 
RBC's unwavering support for SportsAid has been bolstered by incredible employee engagement throughout the last nine years, not just via the buddy scheme, but also fundraising activity which has seen over £500,000 generated in total for the charity. Since the partnership began, employees have regularly participated in challenge events and represented SportsAid in large numbers at the TCS London Marathon, RideLondon, Tough Mudder and the Royal Parks Half, presented by RBC. 
SportsAid has also been the chosen charity for RBC Ride for the Kids across 2018, 2019 and 2020. The funds raised through the Ride has helped SportsAid to run in-person and online workshops – particularly during the COVID-19 pandemic – for athletes and parents beyond RBC's own cohort. The athletes and parents have been able to benefit from advice on performance lifestyle management, building your profile and nutrition, as well as mentoring from Olympians and Paralympians. 
Last year, RBC also hosted a 'Life Beyond Sport' workshop, specifically tailored for athletes, to learn more about the financial services sector, career opportunities in the corporate world and the transition which comes after competitive sport. In addition, RBC was the official supporting partner for SportsAid Week as the charity celebrated its 45th anniversary in 2021. The #MyMiles Challenge, powered by RBC, was at the forefront of the planned activity with supporters encouraged to undertake their own physical activity and raise funds to help the next generation of British sporting heroes. 
Here is the list of RBC's athlete intake for 2022.... 
Joseph Armstrong, 15, Reigate (Short-Track Speed Skating) 
Tom Atkinson, 17, Jersey (Triathlon) 
Lily Freeman Attwood, 20, Aylesbury (Equestrian) 
Liam Barker, 18, Reading (Wheelchair Basketball) 
Joshua Brangan, 17, Lymington (Rowing) 
Roan Brennan, 15, Hornchurch (Para Swimming) 
Tilly Brown, 16, Cranleigh (Diving) 
Jaiden Caldeira, 17, New Southgate (Para Table Tennis) 
Logan Campbell, 19, Camberley (Judo) 
Cameron Chalmers, 25, Guernsey (Athletics) 
Kyras Chambers-Edutie, 16, Bromley (Judo) 
Ash Clayton, 17, Crowthorne (Skiing) 
Mallory Cluley, 20, Tooting (Athletics) 
Rhys Conlon, 15, Woking (Climbing) 
Benjamin Cumberland, 18, Wantage (Triathlon) 
Anna Dalrymple, 19, Horsham (Equestrian) 
Asees Dhanda, 13, Weightlifting (Virginia Water) 
Peter Drabble, 17, Fleet (Cycling) 
William Ellington, 18, Alton (Swimming) 
Luca Ferri, 17, Shepperton (Canoeing) 
Jacob Finnigan, 19, Colchester (Weightlifting) 
Keira Flannery, 16, Poplar (Football) 
Amy Furlonger, 18, Aylesbury (Rowing) 
Lucy Garlick, 15, Carshalton (Climbing) 
Grace Greenwood, 17, Jersey (Para Athletics) 
Alex Haydock-Wilson, 22, Old Windsor (Athletics) 
Cassius Haye, 13, Leatherhead (Tennis) 
Holly Heffron, 19, Chichester (Boxing) 
Tommera Hendricks, 16, Sydenham (Gymnastics) 
Gabrielle Holland, 15, East Grinstead (Modern Pentathlon) 
Emily Hutt, 17, Ashford - Surrey (Cycling) 
Maya Kutty, 17, Eastleigh (Diving) 
Charlie Lane, 15, Steyning (Snowboarding) 
Honor Lewis, 17, Guildford (Canoeing) 
Maddie Long, 18, Surbiton (Hockey) 
Sofia Martin, 17, Enfield (Hockey) 
Calum Moir, 17, Woodford Green (Cycling) 
Amy Morris, 14, Lavant (Softball) 
Jake Pachansky, 14, Bromley (Taekwondo) 
Alexia Potter, 15, Redhill (Football) 
Amelia Quirk, 22, Sunninghill (Athletics) 
Madelaine Russell, 16, St Saviours (Waterpolo) 
Lily Scott, 18, St Helier (Triathlon) 
Harley Smith, 16, Bulphan (Golf) 
Lanre Sowami, 24, Chatham (Wheelchair Basketball) 
Mika Stojsavljevic, 13, West Kilburn (Tennis) 
Fleur Todd-Warmoth, 16, Putney (Athletics) 
Sameenah Toussaint, 19, Harrow (Boxing) 
Amelie Tsang, 15, Bromley (Fencing) 
Sebastian Williams, 17, Borehamwood (Para Swimming) 
Charlotte Woad, 18, Farnham (Golf) 
*Those athletes highlighted in italics were also supported by RBC in 2021 
ABOUT ROYAL BANK OF CANADA 
Royal Bank of Canada is a global financial institution with a purpose-driven, principles-led approach to delivering leading performance. RBC's success comes from the 88,000+ employees who leverage their imaginations and insights to bring its vision, values and strategy to life so it can help its clients thrive and communities prosper. As Canada's biggest bank, and one of the largest in the world based on market capitalisation, RBC has a diversified business model with a focus on innovation and providing exceptional experiences to 17 million clients in Canada, the U.S. and 27 other countries. Learn more at rbc.com. 
RBC is proud to support a broad range of community initiatives through donations, community investments and employee volunteer activities, and in 2021 donated more than C$140 million to causes globally. You can find out more by visiting www.rbc.com/community-social-impact.