Image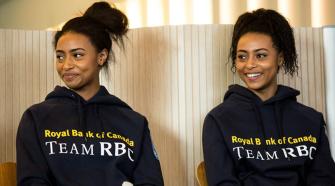 SportsAid is delighted to announce that Royal Bank of Canada (RBC) has been confirmed as the official supporting partner for SportsAid Week 2021! This year's SportsAid Week kicks off today (20 September) and will see the charity celebrating its 45th anniversary. The #MyMiles Challenge, powered by RBC, is at the forefront of the planned activity with supporters being encouraged to undertake their own physical activity, linked to the numbers 45, 450, 4,500 or 45,000, and raise funds to help the next generation of British sporting heroes. 
RBC, one of the largest banks in the world, is a loyal and long-standing supporter of SportsAid. For the eighth consecutive year, RBC is supporting 50 of the most talented young British athletes by providing financial assistance, recognition and personal development opportunities to help them fulfil their potential. The athletes being supported by RBC in 2021 stretch across 32 sporting disciplines as they receive an annual award of £1,000 each to contribute towards training and competition costs. 
SportsAid Week was launched in 2016 to mark the charity's 40th anniversary and has acted as a key annual fundraising drive for the charity ever since. RBC has been a leading supporter of the initiative from the very outset. Five years ago, a special athlete showcase was hosted across RBC's London office - headlined by five-time Paralympic gold medallist Ellie Simmonds OBE - with demonstrations provided on boxing, modern pentathlon, judo and rhythmic gymnastics for staff to watch and join in. 
"We have been supporting SportsAid for many years now and are delighted to extend our relationship even further by becoming the official partner of SportsAid Week 2021," said Dave Thomas - CEO, RBC Europe. "We've been involved in the event since its inception, with employees taking part in the #MyMiles Challenge to raise awareness of and funds for the charity. 
"In 2016 we held an exciting athlete showcase to help SportsAid launch the event and it remains one of the highlights of our partnership to date and a very special memory for our employees. We hope that our support can help boost the success of SportsAid Week so that more talented young athletes can realise their Olympic and Paralympic dreams!" 
The #MyMiles Challenge, powered by RBC, is inspired by SportsAid athletes who cover around 45 miles in training every week, alongside school or university, time with family and social lives. RBC is a passionate supporter of the Challenge which first took place during SportsAid Week 2017. SportsAid was the chosen charity for RBC Ride for the Kids in 2018, 2019 and 2020 which has seen over 25,000 miles being covered collectively towards the Challenge over the last three years. 
The 2021 edition of the #MyMiles Challenge is linked to the numbers 45, 450, 4,500 or 45,000 as a nod to SportsAid's 45th anniversary. For example, you could do 45 minutes of exercise each day, spend 450 minutes practicing yoga over the week, team up with work colleagues to cover a total of 4,500 miles cycling together, or do 45,000 steps. The funds raised through the Challenge from people being sponsored or making donations themselves will support the country's brightest sporting prospects as they plot their paths towards future successes. 
"This is a fantastic commitment from RBC and a brilliant boost to SportsAid Week," said Tim Lawler - SportsAid's Chief Executive. "Their support will help to amplify our messaging during the week and maximise the great effort being made by the wider SportsAid family - especially through the #MyMiles Challenge. Emerging from a very uncertain and unsettling couple of years, we couldn't have wished for a better way to celebrate SportsAid Week. Thanks to everyone at RBC." 
RBC has enjoyed a number of success stories since the partnership began with SportsAid. Most notably, double Paralympic champion Georgie Hermitage was among the earliest recipients of support from the bank. Sprint sensation Imani Lara-Lansiquot, wheelchair basketball prodigy Lewis Edwards and wheelchair fencing star Oliver Lam-Watson are all recent beneficiaries who brought home medals for Great Britain from the Tokyo 2020 Olympic and Paralympic Games this summer. 
One of the most integral aspects of the partnership between SportsAid and RBC is the buddy scheme where award recipients are paired with employees – and Imani, 23, particularly gained a lot from this experience back in 2015 and 2016. Buddies become an impartial and trusted point of contact who follow the progress of the athletes - supporting them and passing on news of their achievements - while imparting important life-skills for the young sports stars to help them in their future endeavours. 
"The RBC Buddy Scheme was a fantastic thing to be a part of," said Imani. "It was the first time I had been exposed to the corporate world and I was lucky to have experienced this at a young age. It was great being able to share my journey with my buddy along the way too. Without the amazing work done by SportsAid, I wouldn't be where I am today. To have their belief and investment as a young athlete not only gave me the confidence I needed to make a mark on the junior world stage, but also allowed me to access the tools and resources necessary to build a long future in track and field." 
A huge thank you to RBC for becoming the official supporting partner for SportsAid Week 2021. You can show your support for the next generation of British athletes by joining the #MyMiles Challenge during SportsAid Week, seeking donations for your efforts through Just Giving and sharing the miles you cover across your social media channels! 
ABOUT ROYAL BANK OF CANADA 
Royal Bank of Canada is a global financial institution with a purpose-driven, principles-led approach to delivering leading performance. Our success comes from the 86,000+ employees who leverage their imaginations and insights to bring our vision, values and strategy to life so we can help our clients thrive and communities prosper. As Canada's biggest bank, and one of the largest in the world based on market capitalization, we have a diversified business model with a focus on innovation and providing exceptional experiences to our 17 million clients in Canada, the U.S., the UK and 33 other countries. Learn more at rbc.com. 
RBC has a long history in Europe and has operated in the region since 1910 to serve corporate, institutional and high-net worth clients. Today, it provides a wide array of financial products and services, which are delivered by over 5,300 employees from offices in the UK, the Channel Islands, Belgium, France, Germany, Italy, Ireland, Luxembourg, The Netherlands, Sweden, Switzerland and Spain. RBC delivers financial products and services in Europe under the global brands RBC Capital Markets, RBC Wealth Management, RBC Investor & Treasury Services, RBC Global Asset Management and BlueBay Asset Management. For more information, please visit www.rbc.com/Europe. We are proud to support a broad range of community initiatives through donations, community investments and employee volunteer activities. See how at rbc.com/community-social-impact.