Image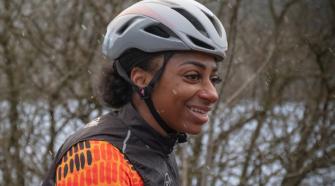 Four-time Paralympic champion Kadeena Cox and Rapha have announced they will be joining forces to relaunch and grow the KC Academy in 2022. The KC Academy has been able to expand this year - thanks to a grant from the Rapha Foundation - and offer an additional four places to help riders from ethnically diverse communities to reach the top of the track and road cycling world. SportsAid is proud to be the KC Academy's charity partner. 
The KC Academy was founded by Kadeena in 2021 as a way of providing inspiration, opportunities and support to athletes from ethnically diverse communities looking to join the ranks of top-level cycling, with the end goal of addressing some of the inequalities within Olympic and Paralympic sports that were highlighted via reports published by Summus Sports Group - Kadeena's management and the organisation in charge of the day-to-day running of the KC Academy. 
The four additional places on the KC Academy will be granted to successful candidates identified at the two KC Academy test days in April this year. 
The two test days - scheduled for Friday 8 April at the Derby Velodrome and Wednesday 13 April at the Lee Valley VeloPark - will provide up to 100 athletes with an opportunity to showcase their skills and potential on the bike. Via an on-track velodrome experience and stationary bike and power tests, designed with the support of British Cycling, the test days will help to identify talent with the potential to make it to the top of the sport. 
The two test days will be completely free for those looking to attend with the only criteria being that athletes must be between 16 and 30-years-old [as of Thursday 31 March 2022] and identify as an individual from an ethnically diverse background. It's not just cyclists that are being encouraged to attend. Kadeena, who has enjoyed huge success at the Paralympics in both cycling and athletics, wants to see athletes from other sports come along - even if they have no previous experience on a bike. 
"I know first-hand that athletes with great cycling potential aren't always found on the bike!" said Kadeena. "I only started cycling by chance in 2015 when I was going through my rehabilitation. It was part luck that I even got on the bike so I really think this could be a sliding doors moment for athletes to come and learn that they have huge potential in a sport they didn't even know about. If you are from a power-based or endurance sport and have experience competing at an elite level in something like rugby or track and field, please do come and give this a go." 
You can find the application form for the KC Academy testing days by clicking here. 
The four successful athletes will join the KC Academy alongside Kadeena and the three athletes already on the programme; Sam Ruddock, Rhianna Parris-Smith and Ash Facey. Each athlete will receive a bespoke support package designed to help nurture their talent on the bike. That support, provided in collaboration with SportsAid, includes KC Academy kit, which has been designed with Rapha, tangible financial support, invitations to academy days, direct mentoring from Kadeena, access to world-class support services, such as coaching and sports psychology, and anything else that Kadeena and her team can provide that will help the KC Academy athletes develop. 
Kadeena's motivation for setting up the KC Academy stems from her own personal journey of success in cycling. Kadeena remains the only ever black British cyclist to win a gold medal at the Olympic or Paralympic Games. She believes this lack of success in cycling from ethnically diverse communities is not down to a lack of talent or a lack of application - but a lack of opportunity and inspiration, a point she highlighted passionately in her TV interview after claiming gold at Tokyo 2020. The partnership with Rapha and being able to expand the KC Academy is incredibly exciting for Kadeena. 
"I'm so proud to be taking the KC Academy to the next level and couldn't be more excited about the two test days that we are hosting in Derby and London in April," said Kadeena. "I really believe there is plenty of talent out there in cycling and we want to find and support those athletes looking to one day stand at the top of the Olympic or Paralympic podium. I don't want to be the only black athlete to have ever won a gold medal for Great Britain [in cycling] - I want some company! Thank you to Rapha and the Rapha Foundation for their belief in me and their support of the KC Academy, they are allowing us to provide these opportunities and helping us to provide a path for the next generation of great cyclists from diverse communities." 
The funding of the KC Academy by the Rapha Foundation complements their individual partnership with Kadeena that started in January 2022. "Riding a bike has transformed my life and I believe that cycling can make the world a much better place for all of us," said Simon Mottram - Rapha's Founder. "This passion for the sport has driven us at Rapha from day one and our mission is to get millions more people to make cycling part of their lives. 
"The Rapha Foundation is a powerful vehicle to help make this a reality, by increasing cycling participation and creating pathways into the sport for people who have often been excluded. I'm very excited and proud that the Rapha Foundation and Rapha as a brand is investing in Kadeena and the KC Academy to build a better future for elite cycling. She is a inspirational person and this is an incredibly exciting initiative." 
Kadeena and the KC Academy have also been working closely with British Cycling to develop a talent identification and support model that will help find the best athletes and provide them with the appropriate support. Joe Malik, British Cycling Talent Development Manager, said: "British Cycling has worked closely with the KC Academy as they develop their approach to talent identification and recruitment. Providing new routes into the sport is vital to British Cycling's ambition as we begin to create more inclusive and accessible pathways - making cycling in Great Britain an authentic reflection of society as a whole." 
You can find out more about the KC Academy and its partnership with Rapha and the Rapha Foundation by clicking here.