GLL Sport Foundation
Image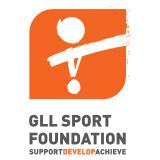 It is vitally important that we inspire young people to excel in sport and harness their talent towards future Games. From starting out as a young athlete and progressing through my sport, I know that support through your development years is crucial. I am delighted that through this programme I am able to champion such support for future sporting talent.
Sally Gunnell OBE
Patron, GLL Sport Foundation
For Today and Tomorrow's Athletes
The GLL Sport Foundation is an organisation operated by GLL, a charitable social enterprise, helping young athletes. GLL developed the scheme to prevent sporting talent being lost due to financial hardship and the Foundation was officially launched in 2008. The Foundation prides itself on being athlete-focused and offers a support structure to achieve success.
The Foundation also aims to support athletes through the transition phases in their lives and provides access to training and coaching qualifications, as well as work placements and jobs within GLL.
Linked to this full circle of support, the athletes play a core role in inspiring and engaging the wider communities in which GLL serve by attending local events. 
The GLL Sport Foundation provides young British athletes with financial support and recognition through its partnership with SportsAid. Each athlete receives an annual award of up to £1,250 which contributes towards costs such as travel, accommodation and equipment.
GLL provides athletes with a training membership enabling access to all its operated venues, thus enabling them to complete strength and conditioning programmes in their gyms, rehab work in the pool and skills practice in an environment local to them for both training and competition preparation. The Foundation also works very closely with sport science providers.
GLL has hosted a number of SportsAid events including two visits from HRH The Duchess of Cambridge to the Copperbox Arena. The Duchess, who is the Patron of SportsAid, attended an athlete workshop in 2014, where young sports stars received guidance on nutrition, performance lifestyle and dealing with the media, and a Commonwealth reception in 2018.
Since the partnership began, the GLL Sport Foundation has enjoyed a number of success stories with Dina Asher-Smith and Lutalo Muhammad both high-profile previous recipients through SportsAid.